Loving Frank Lloyd Wright
Fans can tour or even stay overnight in buildings designed by the famous architect.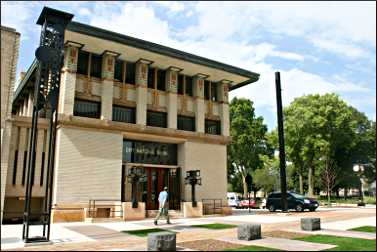 More than half a century after his death, Frank Lloyd Wright is as notorious and admired as ever.
June is a good time to connect with the architect, who was born June 8, 1867.
His eventful life still provides material for bestsellers, including the 2007 novel "Loving Frank," about his relationship with the ill-fated Mamah Borthwick Cheney, and T.C. Boyle's 2009 novel "The Women," about Wright, Mamah and Wright's three wives.
Tours
Wisconsin's Frank Lloyd Wright Trail is a self-guided driving tour of nine Wright sites across the southern part of the state, between Richland Center and Racine.
The Wright in Wisconsin non-profit group offers an annual "Wright and Like" tour in various parts of Wisconsin as well as tours of a Wright-designed American Systems-Built home in Milwaukee .
In Wright's hometown of Spring Green , Wis., Taliesin Preservation holds many special events and offers five different tours of the estate from late April through October.
For more, see Drawn to Spring Green.
In Oak Park , Ill., the Frank Lloyd Wright Preservation Trust gives regular walking tours of Wright's home and studio, and the Pedal Oak Park guided bicycle tour passes 21 sites.
For more, see Wright in Oak Park.
Mark your calendars if you want to go on its annual Wright Plus Housewalk in May. The tour of buildings in and around Oak Park sells out far in advance; tickets go on sale Jan. 1.
The trust also owns and operates Travel Wright, which offers tours to Wright buildings in other towns and countries.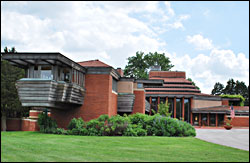 The Chicago Architecture Foundation gives many tours that include Wright buildings, including one-hour walking tours to Wright's Prairie-style buildings in Oak Park as well as tours of Wright's home and studio.
It also offers the four-hour Frank Lloyd Wright by Bus and Frank Lloyd Wright Neighborhoods by Bus. Both leave from the Chicago Architecture Center at East Wacker Drive and Michigan Avenue.
In Rockford , Ill., tours of the Laurent House are given the first and third weekends of the month from June to October, $15. Commissioned in 1948, the single-story Usonian house was built from brick and cypress and designed for wheelchair-bound World War II veteran Kenneth Laurent and his wife, Phyllis.
In Racine , Wis., the SC Johnson company offers a free, 90-minute Landmarks Tour of the 1939 Wright-designed Administration Building and 15-story Research Tower, completed in 1950. Both are on the National Register of Historic Places.
It also offers a free, one-hour tour of Wingspread, which Wright called the "last of the Prairie houses." The architect designed it for H.F. Johnson Jr. and completed it in 1939.
For more, see Wright in Racine.
In Mirror Lake State Park near the Wisconsin Dells , the 1958 Wright-designed Seth Peterson Cottage is open for tours the second Sunday afternoon of the month year-round, $5. It also can be reserved for overnight stays.
Tours are free during Wisconsin's annual state-parks open house, the first Sunday of June.
Near the northeast Iowa town of Quasqueton , Cedar Rock State Park preserves a 1950 Usonian house Wright designed for businessman Lowell Walter, who left it to the people of Iowa after his death.
Wright designed the furniture, selected the carpets, chose the draperies and even picked out the accessories for the house, which overlooks the Wapsipinicon River from a limestone bluff.
Tours are available Thursdays-Sundays from Memorial Day weekend through October. Reserve at 319-934-3572.
In Mason City , Iowa, the 1908 Stockman House is open for tours from late May to October.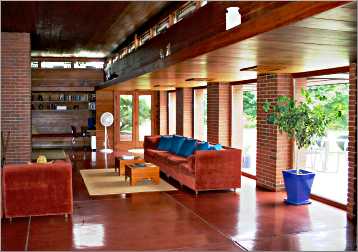 Cottages, houses and inns
In Mason City , Iowa, the Historic Park Inn, completed in 1910, is the only Wright-designed hotel left. It's been handsomely restored and reopened.
For more, see Wright in Mason City.
Near Wisconsin Dells , the blufftop Seth Peterson Cottage in Mirror Lake State Park sleeps four.
In the Lake Michigan town of Two Rivers , Wis., the 1938 Bernard Schwartz House has four bedrooms.
It offers tours the first Sunday of February, April, June, August, October and December. For more about the area, see Two trails from Two Rivers.
In Milwaukee, one of Wright's American System-Built houses is available for rent through VRBO. It has three bedrooms and three baths.
In the northeast Illinois countryside near Hampshire , the 1951 Usonian Muirhead Farmhouse B&B rents out its master suite and offers tours.
In the Rogers Park neighborhood of Chicago , the 1915 Emil Bach House is available for overnight stays. It's also a stop on the Wright Along the Lake bus tours on Wednesdays.
Bike tour
Over Labor Day weekend, the Bombay Bicycle Club hosts a Wright Stuff Century tour, leaving from Capital Brewing in Middleton, Wis., and heading west through the ridges and valleys around Taliesen in Spring Green.
Last updated on December 6, 2021