Bicycling in western Michigan
In the top rail-trails state, everyone loves a ride along Lake Michigan.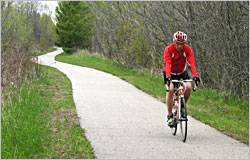 The more I travel through the beach towns of west Michigan, the more I want to see.
So I've slowed down and started touring by the seat of my pants --- on a bicycle.
Michigan makes that easy with 2,385 miles of rail trails , more than any other state. You can catch a trail all along the Lake Michigan shore, from Traverse City to South Haven.
So when I found myself in Petoskey on a gorgeous spring day, I rented a bike to ride the Little Traverse Wheelway. And sure enough, I saw a whole lot more than I ever did in a car.
From Latitude 45 bike shop, I rode a block to the lakeshore, where the trails cut around the wooden Solanus Indian Mission Church, founded by Father Baraga in 1859.
An older couple were riding the trail, and as I took their photo, the woman called, "You can caption that 'Honeymooners on bikes!' "
With its enviable spot on Little Traverse Bay, Petoskey has been a tourist draw nearly since it was founded.
The first wheelway predated the railroad and was used in the 1880s by the first bicyclists, who rode around the bay to Harbor Springs. Three arches are replicas of a gate that warned horse owners that "No Teaming or Driving" was allowed.
I rode south, through the city's Magnus Park to Bay Harbor, which had been puzzling me since I saw it on our first Circle Tour of Lake Michigan .
This manufactured community of big Victorian manors anchored by two giant Victorian hotels seems a little eerie, perhaps because there are so many buildings and so few people.
As I rode through this Disneyland for the yachting class -- there's a yacht shop and Sotheby's in the newest hotel -- it was just me, the landscapers and the security guards.
Back on the bluff, I rode on to West Park, which, like Bay Harbor, was created on land once occupied by a cement plant. A trail led through forest toward a beach reputed to be a source of Petoskey stones, chunks of fossilized coral that are the state stone.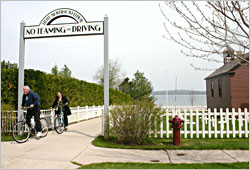 I was looking for morel mushrooms, but found only trilliums and clumps of yellow trout lilies.
On the way back, I passed many gated lanes and saw where the rich keep their toys: at Bay Harbor Toy Boxes, of course, "storage built to suit." The Dermatology Associates of Northern Michigan had built offices across the highway, which seemed convenient: Get a face lift, then recover at your lake place.
Soon I was riding past the art-deco city hall and a picture-perfect falls on the rushing Bear River. Petoskey is nothing if not perfect, with its historic Gaslight District full of mercantiles, haberdasheries and general stores, plus a white gazebo and big yellow Victorian hotel on the bluff.
Back on the lake in Bayfront Park, I passed a daintier falls and Kiln Pond. Soon I was in Bay View, a neighborhood founded in 1875 as a summer colony for Methodists.
It's full of real Victorians, one with a real sense of humor: It proclaimed itself the "Tilt-N-Hilton."
After a shady and quiet stretch, the trail rejoined the highway, passing Petoskey Brewing, "Est. 1898, Revived 2012."
From there, I rode into Petoskey State Park, arriving at a beach lined with tall dunes, then continued along the highway and into a nature preserve.
But the vehicle noise was unbearable, and I turned back. I stopped at the '50s-style Bob-In Again for a frozen-custard cone and was heading on when I saw a "Chocolate Tours" sign and swerved back.
It was for the Kilwins Chocolate Kitchen, where a friendly guy gave me a big chunk of raspberry-chocolate fudge and told me there was more where that came from on free tours given on the hour, every half-hour in summer.
I'd whiled away the whole afternoon. Back at the bike shop, I tried to pay for the extra time I'd had the bike, but employee Heidi Snell told me not to worry about it.
She and her husband, Jason, also told me how I could have bypassed the highway and ridden to Harbor Springs on quiet lanes close to the lake: At Menonaqua Woods, where I had turned back, turn instead onto Powell Road.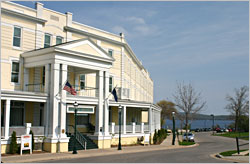 That turns into Beach Road, which takes bicyclists right into the old-money enclave of the Wequetonsing Association, a summer colony founded in 1880, then downtown Harbor Springs.
I tried the route in my car as I headed north. Of course, it was perfect.
Bicycle trails of western Michigan
For the current Michigan Trail Directory, send a self-addressed, stamped (66 cents or two first-class stamps) business-size envelope to MTGA Trail Map, P.O. Box 27187, Lansing Mich. 48909.
These are the longer trails that start from towns on Lake Michigan.
Descriptions and user reviews can be found on the Rails-to-Trails Conservancy's TrailLink.com .
Little Traverse Wheelway , 26 paved miles between Charlevoix and Harbor Springs (avoid the stretch of M119 north of Petoskey by turning onto Powell Road and taking Beach Road into Harbor Springs).
Rent bikes at Latitude 45 , a block from the trail on the south side of Petoskey. Magnus Park is right on the lake and trail and has camping with showers.
In April 2020, the section of the trail between Magnus and East parks in Petoskey fell into the bay, and it is closed .
North Central State Trail , 61 miles between Mackinaw City and Gaylord.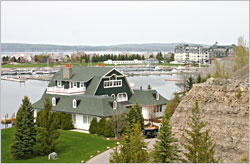 TART Trail and Leelanau Trail , 26 paved miles between the east edge of Traverse City and Suttons Bay, along both the East and West Arm of Grand Traverse Bay.
Bay Area Transportation Authority buses provide Bike-n-Ride trips to or from Traverse City and Suttons Bay, Glen Arbor and Empire.
Sleeping Bear Heritage Trail , 17 paved miles between Empire and Port Oneida along Sleeping Bear Dunes National Lakeshore .
Betsie Valley Trail , 22 partly paved miles between Frankfort and Thompsonville.
Hart-Montague Bicycle Trail , 22 paved miles between Hart and Whitehall.
Berry Junction Trail , 7 miles from Whitehall to North Muskegon, Muskegon Lakeshore Trail , 12 paved miles, Laketon Trail , 4 paved miles, and Musketawa Trail , 25 paved miles between Muskegon and Marne.
Grand Haven Lakeshore Trail , 20 paved miles between Grand Haven and Holland State Park along Lake Michigan.
Kal-Haven Trail , 34½ miles between South Haven and Kalamazoo.
Bicycle tours of west Michigan
For details on other rides, see the ride calendar of the League of Michigan Cyclists .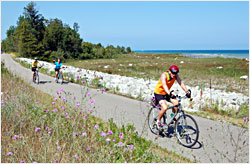 May, Zoo-De-Mackinac from Harbor Springs . This 51-mile ride along Lake Michigan starts at Boyne Highlands Resort, stops for lunch at the famous Legs Inn in Cross Village, continues to Mackinaw City for a finish party, then goes on to Mackinac Island for more parties.
June and September, Big Mac Shoreline Scenic Bike Tour from Mackinaw City . On Saturday, this tour heads west of town along Lake Michigan on routes of 25, 50, 75 and 100 miles.
On Sunday at 7 a.m., participants also get to ride across the Mackinac Bridge to St. Ignace, with bus transportation back. Enter by Sept. 1.
July, Michigander . The Michigan Trails and Greenways Alliance sponsors this ride with two-day, six-day and seven-day options, using different trails each year.
Camping, breakfasts and dinners is included in the rate.
August, Shoreline West Bicycle Tour in west Michigan . This ride, sponsored by the League of Michigan Bicyclists , is a coastline cruise from Montague to Mackinaw City.
Riders can take the 386-mile, seven-day route to Mackinaw City, which includes a 41-mile day riding in Old Mission Peninsula, or the 159-mile, three-day route from Traverse City to Mackinac City. Riders are limited to 500.
On Sunday at 7 a.m., participants also get to ride across the Mackinac Bridge to St. Ignace, with bus transportation back.
Last updated on August 31, 2021