Pedaling for a pint
Thanks to mutual attraction, breweries are popping up along bike trails.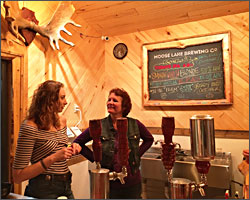 What pairs best with beer? These days, a bicycle.
Beer always has tasted best when you sweat for it. You can still drink a so-called lawnmower beer, but after a bike ride, most people want something flavorful --- ambers, blondes or pale ales.
Craft beer and bicycles seem to go hand in handlebar. Some beers even are named for bikes, such as Fixed Gear IPA from Lakefront in Milwaukee.
That city always has been crazy about bikes as well as beer. Its Fat Tire Tour /beer crawl was started long before New Belgium Brewing, whose co-founder was inspired by a bike tour through Europe, launched its Fat Tire amber ale and Tour de Fat cycle series.
Now craft breweries can be found right on bike trails,  so cyclists don't have to wait long for their reward. Here are 21 bike trails with 31 breweries where you can get a great beer.
And if your bike trail doesn't have a brewery of its own, keep watching --- it may soon.
Minnesota
Moose Lake Brewing on Willard Munger State Trail in Moose Lake . This  brewery is a block from the 75-mile Munger between Hinckley and Duluth and right across the street from Moosehead Lake.
The taproom is decorated with moose antlers, lumberjack tools and historical photos. Beers on tap include such brews as Sweet Trails Raspberry Wheat, Morning Haze New England IPA and Knot Bumper Mango Blonde.
For more about the Munger, see The Fire Ride .
Maple Island Brewing on Brown's Creek State Trail in Stillwater . This brewery couldn't be better located.
Bicyclists can ride all the way from St. Paul, starting on the 18-mile Gateway State Trail , and when they coast down the bluffs to the St. Croix River and glide into downtown Stillwater , voila! The brewery is right there.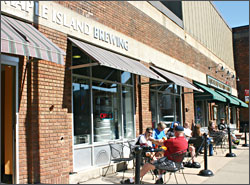 You can try everything in $10 flights, and the popcorn is free.
Big Axe Brewing in Nisswa, Rendezvous Brewing in Hackensack, Portage Brewing Co. in Walker and Bemidji Brewing on the Paul Bunyan State Trail .
Big Axe has a handsome taproom with patio a block from the trail in the little tourist town of Nisswa, 21 miles from the southern trailhead, and in Hackensack, Rendezvous is across from Lucette, Paul Bunyan's sweetheart.
Portage is just behind the Village Square in Walker, and Bemidji Brewing is in downtown Bemidji near the northern trailhead of the 123-mile trail, three blocks from a very nice 17-mile loop ride around Lake Bemidji.
For more, see Bicycling the Bunyan .
Excelsior Brewing on Lake Minnetonka LRT Regional Trail in Excelsior . This brewery is a block from the 15-mile crushed-limestone trail between Hopkins and Carver Park Reserve in Victoria.
It hosts frequent music, including Brewgrass Sundays, and special events, including Docktoberfest in October.
More in Minnesota
Red Wing Brewery is near the eastern trailhead of the 19½-mile Cannon Valley Trail in Red Wing, off Bench Street near Old West Main Street.
Bad Habit Brewing is near the Lake Wobegon Trail in St. Joseph, about a mile south of the trail off College Avenue.
In Pine Island, South by Southeast Brewing is a mile east of Trailhead Park, from which the 13-mile Douglas Trail heads for the outskirts of Rochester.
In Minneapolis, Inbound Brewco is off Cedar Lake Regional Trail , on a giant loop that connects to the Grand Rounds and North Cedar Lake Regional Trail to Hopkins and the LRT trails.
Near the St. Paul border, Surly Brewing connects to the Grand Rounds via the UM Transitway and Dinkytown Greenway .
Wisconsin
Lucette Brewing on the Red Cedar State Trail in Menomonie . This brewery couldn't be any closer to a trailhead --- it's right there , practically in Riverside Park.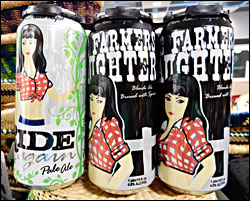 After a ride on the 14½-mile crushed-limestone trail along the Red Cedar River, have a glass of the Ride Again pale ale or the new Harmonia IPA, with a pizza from the wood-fired oven.
For more, see Red Cedar ride 'n' glide .
Tyranena Brewing on the Glacial Drumlin State Trail in Lake Mills . This brewery is just a block off the 52-mile crushed limestone trail between Waukesha, just west of Milwaukee, and Cottage Grove, just east of Madison.
It has a beer garden that offers live music on Fridays and Saturdays in summer.
It's also only 10 miles from the Trek factory in Waterloo, which offers tours at 10 a.m. on Wednesdays.
For more, see Riding the Glacial Drumlin .
Grumpy Troll Brewpub on the Military Ridge State Trail in Mount Horeb . This longtime brewery near Madison is only a block off the 41-mile crushed-limestone trail between Fitchburg and Dodgeville.
You can get 4-ounce samples of its beers for $1.50 in the pub, and there's a full menu, too.
Lazy Monk Brewing on the Chippewa River State Trail in Eau Claire . This brewery is three blocks from where the 30-mile trail crosses the river downtown. The trail is paved for the first 10½ miles of its westward route to Durand.
Lazy Monk has a large Bier Hall and beer garden, and it celebrates Oktoberfest on two weekends in September.
New Glarus Brewery on the Sugar River State Trail in New Glarus . This very popular brewery is across the highway and up a steep hill from the 23-mile trail between New Glarus and Brodhead, but many cyclists gladly make the detour.
There's also wood-oven pizza or carts supplying food to eat on the picturesque picnic grounds.
Michigan
Right Brain Brewery on the TART Trail in Traverse City . Across from Boardman Lake, this brewery is right off the trail, which, with the Leelanau Trail , provides 26 paved miles from the east edge of Traverse City to Suttons Bay.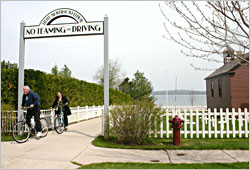 But many others are almost as as close, especially The Workshop Brewing and Mackinaw Brewing , near the West Arm of Grand Traverse Bay, as well as Seven Monks , North Peak , Rare Bird Brewpub and the Filling Station , starting point of TC Cycle Pub tours.
And since so many breweries are near water, there are four-hour Kayak, Bike & Brew tours , offered regularly. They're similar to the less frequent, six-hour Paddling for Pints tours, which visit up to six breweries and sell out quickly.
Beards Brewery and Petoskey Brewing on the Little Traverse Wheelway in Petoskey . Petoskey is in the middle of this paved, 26-mile trail Charlevoix and Harbor Springs along Lake Michigan.
Beards is in the historic Gaslight District of this adorable town, and Petoskey Brewing occupies a restored 1898 brewery on the north end of town, across the highway from the trail.
Iowa
Toppling Goliath and Pulpit Rock Brewing on Trout Run Trail in Decorah . Both breweries have taprooms across the river and up College Drive from this lovely, 11-mile trail, which follows the Upper Iowa River and Trout Run Creek on a loop around town.
Reclaimed Rails in Bondurant and Firetrucker in Ankeny on the Chichaqua Valley and Gay Lea Wilson Trail . Sections of two bike trails, the 20-mile Chichaqua and 35-mile Gay Lea Wilson, connect these breweries north of Des Moines.
Textile Brewing in Dyersville at the end of the Heritage Trail from Dubuque . The western trailhead of the 26-mile trail is famous for the Field of Dreams movie site and attraction. The craft brewery is in a former pajama factory
Last updated on July 13, 2021