More miles to ride
Spring is a great time to try a new bike trail. Chances are, there's one near you.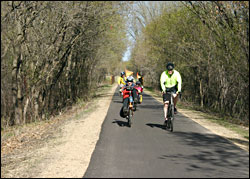 In spring, bicyclists start looking for a good trail --- and it's always most fun to try a newer one.
In Minnesota, the paved, six-mile Brown's Creek State Trail between the eastern suburbs of St. Paul and Stillwater, on the St. Croix River, is a beauty.
Built along the route of the old Minnesota Zephyr excursion train, it heads east from the popular Gateway State Trail , following a trout stream and gently descending through wooded bluffs.
It follows the river into downtown Stillwater , where it pulls up to Maple Island Brewing, which adjoins the River Market deli and a coffee shop. Across the street, there's a Candyland. Bicyclists will think they've hit the jackpot.
Many trails connect parks and towns. In west-central Minnesota, the 12-mile Glendalough Trail makes it easy for campers in Glendalough State Park to ride into the resort town of Battle Lake for dinner or an ice-cream cone.
And a six-mile stretch extends the 121-mile Paul Bunyan State Trail from Brainerd/Baxter to Crow Wing State Park , a beautiful but overlooked park that is right on the Mississippi River and includes remnants of a ghost town and the Red River Trail.
In western Michigan, the 17-mile Sleeping Bear Heritage Trail follows Lake Michigan, connecting Empire and Sleeping Bear Dunes National Lakeshore with the resort town of Glen Arbor.
Michigan is piling on the miles fast (get a map here). Among the newest trails is the 42-mile Fred Meijer Clinton-Ionia-Shiawassee, or CIS Trail , between Ionia and Owosso, east of Grand Rapids. It's part of a four-trail, 125-mile network.
Trails are proliferating everywhere, and they're not always state trails. In Wisconsin, much of the action is in cities and counties. Kenosha , for example, has 11 miles of trails along Lake Michigan, which connect to 10 miles of lakefront trail in Racine .
There are now many trails between Chicago and Milwaukee. In Chicago, they start from Chicago with the Lakefront and Robert McClory trails.
The best way to find new trails near you is by using the Rails-to-Trails Conservancy's TrailLink guide. It describes each trail, even the small ones, and lists nearby trails.
For more about spring bicycling, see 15 great trails to ride in spring .
For more about state bicycle trails, see Bicycling in Minnesota , Bicycling in Wisconsin , Bicycling in Iowa and Bicycling in western Michigan .
Last updated on January 24, 2022