Feasting in Dubuque
Guests on a progressive dinner and mansion tour get a good look at what frontier fortunes could buy.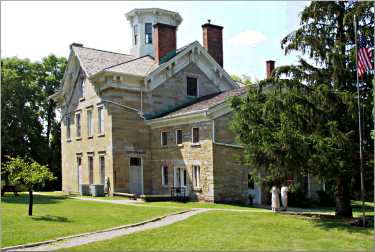 Walnut carpenter's lace. Fireplaces made of Italian mosaic tile. Yards of leaded glass and richly printed, century-old wallpaper.
Oooooohh.
That's what the two dozen people on a house tour and progressive dinner in Dubuque, Iowa, kept saying as the tour progressed from one Victorian mansion to another.
Despite its obvious appeal to the antiques crowd, the tour is more than a cavalcade of architecture and ostentation. Along the way emerges a social history of a frontier town in which an enterprising man could grab opportunity and turn it into enormous wealth.
Dubuque is the grittier cousin of Galena, 16 miles south in Illinois. Both sprang out of a lead-mining boom, but Galena, three miles distant from the Mississippi, started shrinking before the Civil War. Dubuque kept growing and producing --- lumber, meat, wagons, boats --- and prospering, which explains the abundance and variety of Victorian architecture.
French-Canadian fur trader Julien Dubuque was the first white man to settle in the area; he traded lead mined by local Mesquakies until his death in 1810. When the Mesquaki lost control of the area after the ugly Black Hawk War of 1832, Missouri farmboy Mathias Ham set up shop and pulled millions of dollars in lead ore from the earth.
It is at Ham's 1856 blufftop house, now a museum, that the progressive dinner begins. My group settled around tables in the cellar for chicken salad in puff pastry and fruit. Then we joined interpreter Rachael Beasley, who started her commentary on upper-class social mores of the time by showing us a whalebone waist cincher --- 18 inches, about the circumference of a cantaloupe --- that girls were forced to wear starting at age 6 or 7.
The keeping of appearances turned out to be a recurring theme in the houses, which were built to impress business associates. Ham put a cupola and an eight-pillar entrance on his limestone-block house, but it didn't help his fortunes much --- they soon changed, and he was forced to take in boarders.
Across town, at the Redstone Inn, we spooned up vegetable soup in the warm glow of walnut and redwood, under crystal-teardrop chandeliers. A.A. Cooper, the man who built the 1894 mansion, came to Dubuque in 1846 at age 17 to take a job as blacksmith's apprentice that paid $35 a year.
Eventually, he started the Cooper Wagon and Buggy Co., whose covered wagons were nicknamed Old Reliable and carried pioneers to Utah and along the Oregon Trail. Cooper built the Redstone as a wedding gift for his daughter; today, it's an inn.
The builder of the 1873 Ryan House earned his wealth the old-fashioned way --- through connections. Meatpacker William "Hog" Ryan had an influential friend from his Galena days, Gen. Ulysses S. Grant, and the result was contracts to supply the Union Army and frontier forts with pork.
We ate London broil and tarragon chicken as we were regaled with a history of the house and its strong-willed occupants over the years.
Then it was on to English trifle in the 1890 Stout House, a showcase of the kind of carpenter's artistry a lumber baron can command. Frank Stout made much of his fortune on Wisconsin's white pine but chose Brazilian rosewood, sycamore, mahogany and blond oak from the Philippines for this house.
From the Stout House, it was only two blocks to my room at the 1908 Mandolin Inn, yet another fabulous old mansion that gets its name from a lovely leaded and painted-glass window portraying St. Cecilia, patron of musicians. A formal four-course breakfast was served the next morning with candlelight and soft concertos.
Then it was back to real life. The funny thing about Dubuque is, it doesn't feel much like real life --- not modern days, anyway. In fact, it's often used as a movie setting, filling in for Boston in "Field of Dreams."
Like the houses, the most picturesque tourist attraction in town is rooted in the past. In 1882, a banker who lived atop the bluffs but worked below got fed up with the long buggy ride around the bluff, which ate into his noontime nap. So he built an incline railway, modeled after those in the Alps, and had his gardener haul him up in a cable car each noon. J.K. Graves' neighbors envied him and asked for rides; soon, the railway was opened to the public.
Today, tourists love to creak up the 65 percent grade in the little green-and-white car. Locals use it, too, to get to the Saturday farmers market and the boutiques in Cable Car Square. The view of the river and steepled cityscape from above is magnificent.
On the bluffs sit many more Victorians, painted ladies rather than the red and brown stone mansions below. Banker Graves' frame house, with a turret and curving porch, is among them on Fenelon Place.
Graves, Ham, Ryan, Cooper and Stout. They thought big and built big, and their landmarks ensure they're not forgotten.
Trip Tips: Victorian Progressive Dinner in Dubuque
Victorian House Tour & Progressive Dinner : A five-course dinner is given the second and fourth Saturdays from June through October and on the six Saturdays before Christmas at the 1856 Ham House, the 1873 Ryan House, the 1894 Redstone Inn and the 1908 Mandolin Inn. Cost is $48; reserve at 800-226-3369, Ext. 214.
The Stout House now is a private home; the Mandolin Inn, a brick Queen Anne built by insurance and banking magnate Nicholas Schrup, has replaced it on the tour.
Accommodations : Guests can stay at the Mandolin Inn , 800-524-7996, and Redstone Inn , 563-582-1894.
Two other Dubuque mansions also are bed and breakfasts, the 1891 Queen Anne Hancock House , 563-557-8989, and the 1883 Stick-style Richards House , 563-557-1492.
Information : To plan a visit, see Destination Dubuque .
Last updated on April 19, 2009